Between 2020 and 2021 the world of Marketing has changed incredibly. The behavioral changes due to the moment we are experiencing and the need to interface more and more with digital aspects has led to significant economic changes.
Especially in the offline world, the economic aspect has undergone modifications and alterations, making security and social distancing measures appropriate and necessary.
Precisely to comply with these rules, many people have begun to rely on the use of QR Codes to allow the transmission of information without direct contact with sheets, menus or flyers, reducing the risk of contagion.
In European restaurants, many menus have been replaced by the possibility of viewing the dishes on a landing page accessible via QR Code, making this issue particularly topical.
One thing that we must never forget is that QR Codes have actually been present and used for a very long time and are successfully exploited by many different brands.
These tools allow you to create a direct link between the offline and online world, allowing anyone with a phone to scan the code and interact with any type of content connected to it.
People, who are becoming more and more accustomed to this type of technology will be increasingly easier to understand and use the codes, having now learned to scan the codes even simply to order food or to redeem a store discount code.
QR Codes, therefore, are particularly essential and can bring incredible benefits, especially for current and more modern marketing campaigns. Users are also ready and receptive and will be able to fully benefit from QR Codes.
However, there is a way to optimize the use of this technology: create Custom QR Codes.
What are Custom QR Codes?
Custom QR Codes are codes that can be changed in appearance and shape and which can become super effective tools for branding your marketing campaigns both online and offline.
Usually QR Codes appear without a real identity, they are simply randomly generated black codes.
Codes of this type have very limited potential and can be improved by creating Custom QR Code.
With JotUrl you can create QR Codes and customize them according to your needs, changing the color of the pixels, also inserting a branded logo and creating new innovative shapes.
In this way you can create a unique Custom QR Code.
Logically, having your own brand within a QR Code will make communication even more immediate, and will offer a powerful tool to allow you to improve your grip on offline and online users.
The Custom QR Codes created with JotUrl also offer the possibility to simply change the link inserted within the code, without requiring a reprint of the QR.
In this article we are talking about Dynamic QR Codes, which are really practical within the marketing environment.
JotUrl allows the user to create 10 different Custom QR Code templates from the basic plan. This does not mean that you will only be able to use and print 10 QR Codes. It means that you will have 10 different templates for your QR Codes, but you can potentially associate 1 QR Code to every single Tracking Link included in your plan. Therefore, with the basic plan you will have the possibility to create 2000 QR Codes containing different links and URLs.
This number will increase exponentially based on your plan.
There are, among other things, many ways to effectively exploit your Dynamic Custom QR Codes, in this article you can find some.
One of the most useful systems to take advantage of Custom QR Codes in digital Marketing, however, is to create Custom QR Codes to open App Pages.
How to Create Custom QR Codes to open App Pages
To create a Custom QR Codes to open App Pages you will need two simple steps.
The first is to make sure you create a custom QR Code.
The second is to insert a deep link within your Custom QR Code, in this way users who scan your code will be redirected through deep linking within an App page.
JotUrl allows you to implement both of these steps within a single Dashboard, without having to use different tools.
Let's see how to create your Custom QR Code.
First choose the destination URL to be included in the code. This way users will be redirected to the landing page you want.
In this case it must be the page within your App or a third-party App.
Use this link and enter it as the Destination URL when creating your Tracking Link.
To make the destination even clearer and more defined, make sure you use your custom branded domain and use the alias section correctly. Link customization may seem superfluous to you, but it will improve the likelihood of people seeing your content.
Did you know that branded links are clicked 42% more times than URLs that do not have customization?
Use your personal domain also within your QR Code, in this way you will further improve your credibility and reliability.
Once these operations are completed click on "Save and Go to Link Option" to create your code.
By clicking on the "QR Codes" box you can access the page where you can create and customize your personal code in just a few minutes.
You will be able to create your own templates and save them, in order to associate them more quickly in the future with your new Tracking Links.
The customization panel is very practical, it allows you to insert your logo within the code and improve its visibility.
You can also change the shape of the code squares to create more creative effects. Finally, you have the option to change the colors of your code.
These are some examples of Custom QR Codes that you can easily create with JotUrl:
You can check the readability of your code at any time, so you can avoid any future problems.
You can customize your QR Codes from any plan purchased on JotUrl, and make your codes unique by adding your logo or other changes related to the appearance of your QR Code.
Generate a Deep Link for your Custom QR Codes to open App Pages
Once you have created your Custom QR Code, you will need to make sure you generate a Deep Link.
Within JotUrl this practice is really simple to use.
As soon as you have saved your QR Code, you will be shown in the additional options of JotUrl. The QR Code function allows the combination with other features, so in this case it also allows the use of the Deep Linking function.
If you have your own personal App, then click on "App Deep Link", you will need to configure your link with all the specifications to improve the navigation of your users via mobile device. You will have many fields at your disposal, in order to perform 100% your link in all its aspects.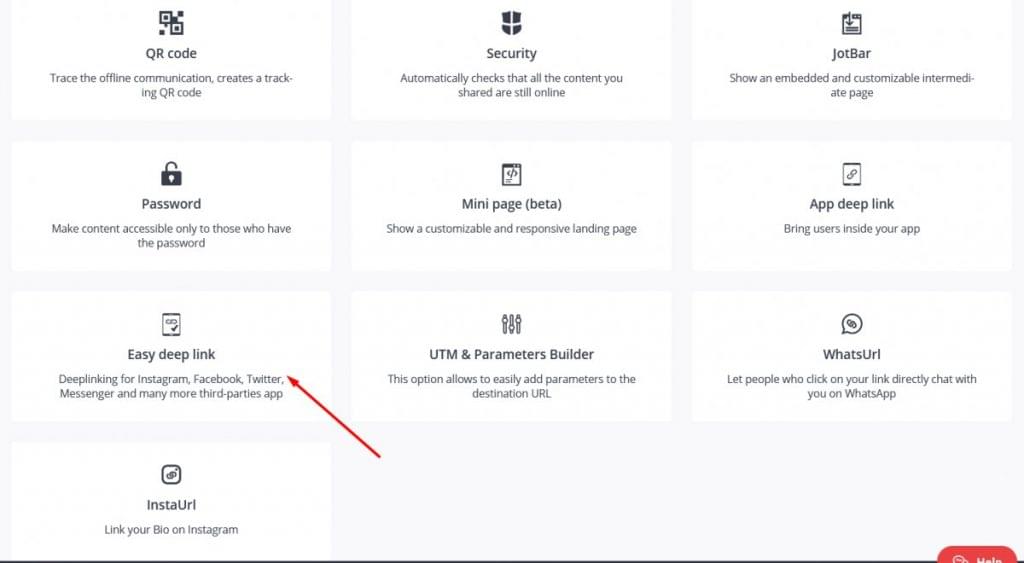 If, on the other hand, you are redirecting your users within a Third Party App (eg: Facebook, Amazon, LinkedIn, etc.) you can use the Easy Deep Link. This function can automatically understand which App you are linking to and will automatically generate settings to optimize the navigation of your users within the App.
You have a lot of freedom of choice on the Apps that can be visited through your Custom QR Code.
A field specially designed for open pages in App with your Custom QR Codes has recently been added to the Deep Link App.
Users who try to view your content from Desktop will be invited to scan your QR Code to open the page in the App or to download the application.
This offers a great advantage, as even desktop users can be converted to mobile users and interact with your app in a truly immediate way.
Scanning a code has become a really simple and immediate operation, as increasing digitization has pushed us to get closer and closer to technology. It is very likely that a person who is working on the computer has a phone at hand and can therefore easily scan a QR Code.
Case Study about Custom QR Codes & Deep Link
We can give an example that happened in 2020 from an Italian company that used our QR Codes: Winelivery.
The company was able to print our codes on its billboards. These were placed inside the Milan metro, in a very busy area.
The gimmick was certainly successful because many people had the opportunity to see those billboards.
Each QR Code was printed next to the respective product to be purchased.
The really important thing is that each QR Code created with JotUrl contained a Deep Link that referred to within the App. The landing pages of the specific product were visited by users so that they could buy the product directly from the phone with a simple click.
The strategy worked. In the first 14 days, more than 2550 scans were recorded with consequent purchases in the App by users, and in the following months these numbers have risen with the spread of the brand throughout Italy.
As you can see it is possible to create a Custom QR Code to open Pages in the App, it is possible to do it successfully by using the right tools and operating a Marketing strategy with attention to every detail.
Recap
QR Codes are used more and more often to bring offline traffic to interact with digital content. In 2021, people use the phone for most of the day, making it necessary to improve user navigation within the Apps.
One of the best ways to combine these two aspects is to use a QR Code associated with a Deep Link to allow access to pages in the App without wasting time or possible conversions.
With JotUrl it is possible to create a Custom QR Code to Open pages in the App in a few minutes and using two simple features included in our set.
You can insert your custom logo and modify every single aspect of the Custom QR Code and then insert a Deep Link within your code.
The steps to succeed are really very simple:
1. Create Custom QR Code
2. Associate with Deep Link
3. Print and Share your Custom QR Code
As you can see it's very simple, you can sign up to JotUrl and test this process during the 14 Days Free Trial we offer to all our customers.

Cheers,
JotUrl Team