In this article, we'll talk about one of the best ways to boost your mobile campaigns.
Thanks to modern Deep Linking technologies, redirecting users within their own or third-party APPs has become an increasingly used reality.
Deep Linking can be associated with many other tools and strategies, creating very powerful combinations in the field of digital marketing.
An example can be had with QR Codes, a tracking link with the deep linking function can be inserted within a QR Code to redirect the people who scan the code directly to the APP. You can find out more about this technique in this article.
However, one of the most profitable and useful methods for your digital campaigns is to use Deep Linking in your SMS Marketing Campaign.
What is SMS Marketing?
SMS Marketing is nothing more than a series of strategies aimed at sending messages or promotional offers via SMS (Short Message Service)
There are many ways and methods of use, usually the SMS of these advertising campaigns are divided into different categories.
The links sent in the messages of these campaigns can be:
Offers for products
Survey links
APP download links
Cupon Codes
Discounts
Through this system it's possible to reach the users whose telephone number you have, by communicating short coincident messages directly to their devices that can bring attention to limited offers or to the services of your company.
This type of marketing is mainly used by big famous brands, but it can also be used by smaller SMEs or startups in some cases.
Many people might think that with the advent of a messaging system like Whatsapp, SMS have disappeared, but this is not the case.
In fact, SMS still play a very important role in everyday life.
Did you know that more than 5 billions of people all around the world use Smartphones?
In such a large user base it's very important to finalize and focus the right strategy to base your campaigns!
Marketing, to keep up with the times, has not spared the users of telephone devices by landing in what is defined as SMS Marketing.

SMS Marketing can find many applications in Digital Marketing, a good combination is clearly the use of Deep Linking in your SMS Marketing Campaigns.
What are Deep Links?
The Deep Links are inserted within an internet page or a website and create a direct link to the internal pages of another site/app, etc.
For example:
I can insert in the homepage of my site a deep link that refers to the specific page of an Amazon product (an internal page.)
This practice is very useful because with a simple click the user can enter into a specific page bypassing the homepage and any intermediate pages.
With this premise it's easy to understand that Deep Linking is a tool with truly extraordinary potential for the marketing aspect.
In fact, through Deep Linking it's possible to redirect users to landing pages created specifically for a product or for a promotion, consequently increasing the possibility that the user can interact with your content without any distraction whatsoever.
Usually a normal path could be this:
Homepage -> Intermediate Page -> Page Dedicated to your service.
In this case, simply clicking on the Deep Link will take your users to the Dedicated Page.
In addition to the great time savings and efficiency of this system, Deep Linking has many other benefits and advantages that we will analyze in the course of the article.

Below you can analyze the behavior of a Deep Link on an Android device.
Below you can analyze the behavior of a Deep Link on an iOS device.
How to use Deep Linking in your SMS Marketing Campaigns
SMS Marketing is mainly concerned with sending SMS to a telephone.
If a link is inserted within an SMS, it is clear that your campaign will benefit more.
A link is very powerful, it can be used for data tracking, to redirect users within a site and a landing page.
Links, when used as Deep Links, unleash their full potential especially in Mobile Marketing.
SMS Marketing is a reality designed specifically for all mobile devices, and this clearly represents an ideal place to use Deep Linking technology.
To use Deep Linking in your SMS Marketing Campaigns you simply need to make sure you turn your link into a Deep Link.
Thanks to JotUrl, creating useful, safe and effective Deep Links is very simple.
With the Easy Deep Link function, you will only need a few clicks to redirect all your users from their SMS to an APP page (Facebook, Instagram, Amazon, etc.)
1. Enter the JotUrl Dashboard and create a new Tracking Link.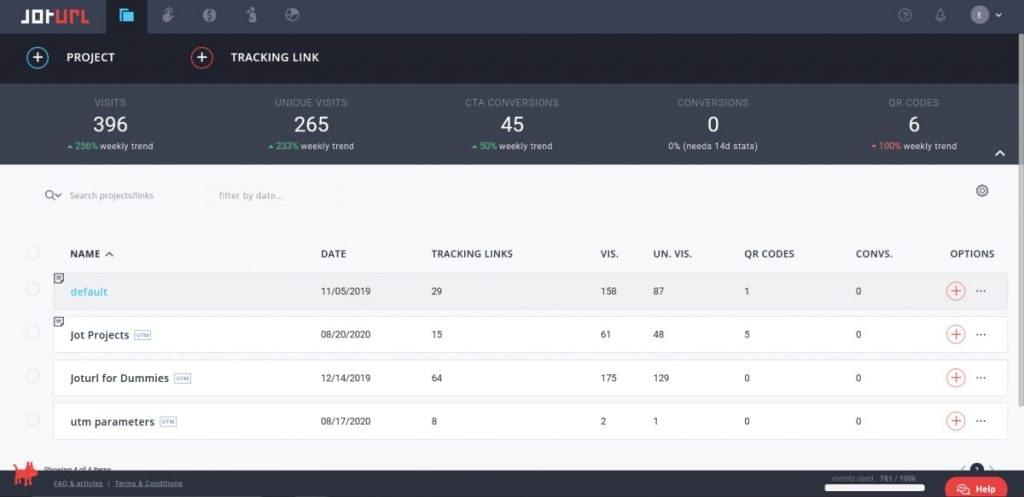 2. Within the destination URL you will need to enter the landing page where your end users will be redirected.
3. Remember to select your custom domain and your alias. Customizing your links increases link trust and CTR by 34%, improving conversion and user engagement.
4. Click on "Save and Go to Link Options"
5. Click the Easy Deep Link box
6. As you can see, this function allows you to redirect people to most of the main Apps in the digital market.
7. All options have already been preset for you, with no changes required.
8. What you have to do at this point is to simply save your Deep Link with one simple click.
9. Copy your Deep Link and insert it into your SMS.
The advantages of using Deep Linking in your SMS Marketing
The use of Deep Linking in your SMS Marketing brings many benefits for mobile users:
Upgrade User Experience.
Improve App Discoverability.
Improve Marketing Strategies.
Boost User Engagement.
Increase App Penetration.
Improve Downloads & Conversions.
The Deep Links can be inserted directly into your SMS, the user can then be redirected from the promotional message directly within the mobile APP.
By using a branded Deep Link, your reputation as a company, your credibility and your CTR will increase even more, reaching more than + 34% in engagement, conversions and visits to your content.
Furthermore, the use of a tracker such as JotUrl will allow you to shorten your destination URL, allowing you to gain valuable space within the SMS.
A short, easy to read and 100% customized link will make your campaign even more effective!
These types of strategies can be useful for any type of user:
marketers
bloggers
growth hackers
e-commerce
enterprise brand.
Our services can manage telephone services and campaigns of the caliber of Vodafone and TIM, they have been doing so for years, guaranteeing excellent infrastructure, stability and security for all your links.
If you want to learn more about the use of Deep Linking within Mobile Marketing, read this article.

——-

Cheers!
JotUrl Team