Instagram is one of the most useful and famous social media in 2020, even very important brands ( Coca Cola, BMW, Nike, Apple, etc.) use it for their campaigns. That's why understanding how to generate a Deep Link to Instagram is fundamental.

Just a little reminder on deep linking.

What is Deep Linking?
Deep Linking is a powerful technology developed in the digital marketing sector that allows users to be redirected within a specific landing page, bypassing homepages and other intermediate pages.
Deep Linking also works within the Mobile Apps, indeed, it can be said that Deep Linking gives its best within Mobile Apps!
If you insert a Deep Link within a mobile message, for example inside your Telegram or Whatsapp chat, you can redirect your users from that message to the App's internal landing page.
In this way, the user will not be forced to enter the App from the Homepage to search for your product, your profile or your page. It will enter right where you want it to land.

The minimum time, the maximum result.
Deep Linking has incredibly improved the user experience while browsing, the conversion rate and even the browsing time within the App.
Deep Linking can be used for any App, even for Instagram one.
In this article, we are going to analyze how a Deep Link to Instagram can exponentially improve your results in social media marketing campaigns.
Why Deep Linking to Instagram is so important.
Instagram is a platform developed mainly to work via Mobile, so it is the most suitable terrain to exploit all the potential of a technology capable of improving the way of doing Mobile Marketing.
In recent years, the continuous implementations and the style of the App have made Instagram one of the most popular and used social networks.
The advent of Instagram Stories and the ability to advertise their products through interactive and graphically stimulating content has greatly affected the market choices made by all the most famous brands in the world.
In 2020, the USA is the country with the largest number of users with more than 130 million registered users, followed by India with more than 100 million users and Brazil with more than 90 million.
The Instagram audience is rich, full of life, and hungry for content.
Being able to redirect users within a specific Instagram profile can be game-changing. The best way to do this is to use a Deep Link to Instagram.
Using a Deep Link to Instagram, users can reach Instagram pages bypassing the home page and the login page, arriving exactly on the page or profile you want to advertise.
The Deep Link to Instagram can be placed in any place:
within a newsletter email,
within an SMS
within a Whatsapp message
within a Telegram message
within your landing pages
within a CTA button
There are many ways in which people can be redirected to the App thanks to the Deep Link to Instagram.
Plus, by using a Deep Link to Instagram you can also track how many visits and clicks you have collected, but more importantly track what specific event led to those visits or conversions.
Understanding whether a product can be a flop or a success isn't difficult if there is precise data to check.
Thanks to your Deep Link to Instagram created with our platform you can collect all useful data for your campaign:
number of visits / unique visits
number of clicks
origin of users
devices used (iOS / Android)
version of the device
search engine
version of the search engine
browser language
You will be able to have full control of your social campaigns and also manage how many users redirect through your Deep Link to Instagram.
The easiest way to create a Deep Link to Instagram.
JotUrl has developed a truly revolutionary feature called Easy Deep Link, creating your Deep Link to Instagram will only take a few clicks.
In order to successfully create your Deep Link to Instagram, follow the instructions below.
Look for an Instagram page or account to which you want to direct your users using the Deep Link feature. For this example we use the JotUrl Instagram Page.

Copy the URL of that page – don't worry about the length.
Enter the JotUrl Dashboard and create a new Tracking Link to create the Deep Link to Instagram you need. Just click the (+) TRACKING LINK button.
Fill in the form for your new Tracking Link.
1) Insert the link of the Instagram page as the destination URL.
2) Choose your domain, we recommend that you use your personal branded domain
3) Add the alias you want. In this way, despite having a very long Instagram link, you can shorten it, making the destination of your Deep Link immediately clear.
These attentions can improve the CTR of your links by more than 34%

Creating short links can be vital, especially if you intend to share them over the phone.

4) Insert tags and notes to identify your links within your projects.
5) Click on the "Save and go to Link Options" button.
At this point click the box called: Easy Deep Link.
Within this Feature you can immediately create your Deep Link to Instagram.
As you can see, our JotUrl engine has already been able to understand that your destination URL belongs to Instagram, and has already preset the fields within the page without you having to touch anything.
If you wish to make any changes you are free to do so.
Within this page you can check the behavior of your Deep Link to Instagram on both Android and iOS devices.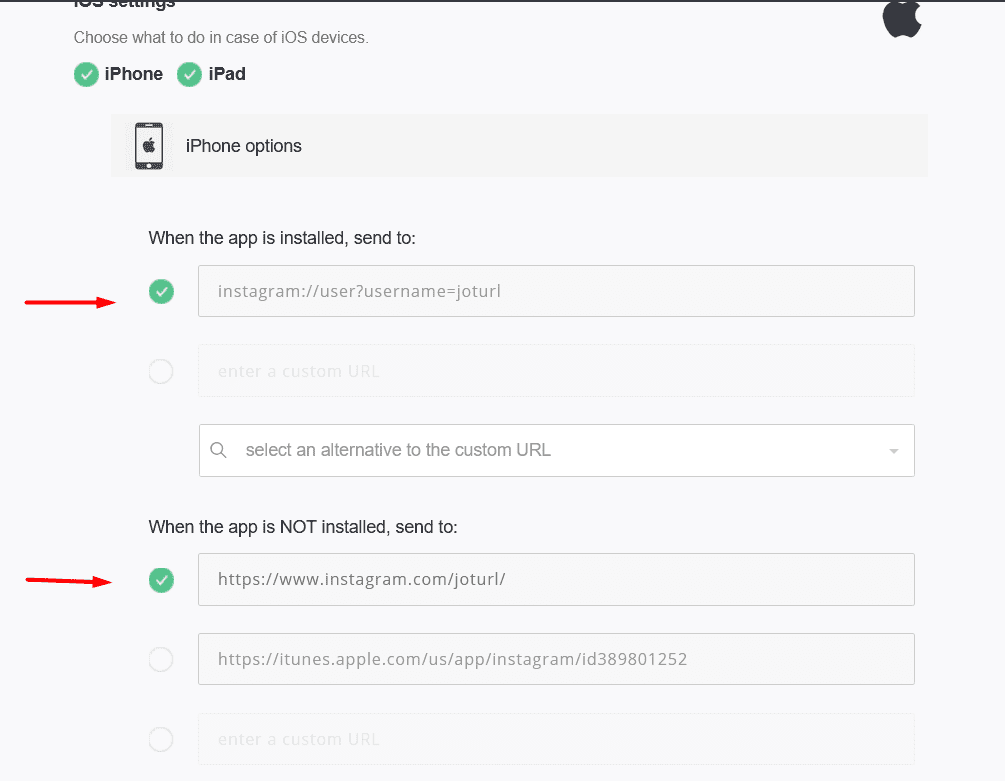 You can also set alternative landing pages if the Instagram App is not installed on your user's device.
If your users haven't the Instagram App installed, you will have the following options:
– Redirect them to the browser Instagram page, it cannot be viewed in the Mobile App, but only from the page of the search engine used (Google, Firefox, etc.)
– Redirect them to the App Store / Play Store to download the Instagram App
– Redirect them to a custom page chosen by you.
Within the settings for Android devices, you can force the opening of your link via the browser, however this procedure is not yet available for iOS.
Once you have selected the Open Graph settings you can save your Deep Link to Instagram.
You can copy it in an instant by clicking this button. Let's see it at work!
We have sent our Deep Link to Instagram to a mobile device in order to test it properly.
A single click within the Whatsapp Chat will be enough to redirect users within the Instagram App! The Deep Link to Instagram will redirect your user inside the specific landing page that you use as URL Destination.
Deep Link to Instagram Story Camera
We're not done yet!

Within our Easy Deep Link we have added a feature that allows you to create Instagram Story Camera Deep Links in a very simple way.
You simply have to enter the page, and select a few simple options.
Choose the devices you want to reach with your Instagram Story Camera Deep Link (the first you will find are the devices that mount an iOS system: iPhone & iPad).
The item that you will have to briefly edit is the one that will redirect users who have already installed the Instagram app on their phone to their Story Camera.
Open the drop-down menu.
Two options will appear:
– "select an alternative to the Custom URL"
– "Deep link in the Instagram Story Camera"
Choose the option: "Deep Link in the Instagram Story Camera"
Then make sure you check the "instagram: // story-camera"
This way you can create a direct Deep Link to your user's Instagram Story Camera.
For all other devices that do not have an iOS system, the operation is very similar.
Open the drop-down menu, two options to choose from will also appear in this case.
– "select an alternative to the Custom URL"
– "Deep link in the Instagram Story Camera"
Choose the item "Deep Link in the Instagram Story Camera"
Then make sure you tick the correct destination, the second you see indicated in the screenshot below.
In this way, even Android devices will be able to redirect users to their Instagram Story Camera thanks to the Easy Deep Link.
Repeat the procedure for all the devices you are interested in engaging.
Once you have checked and carried out all your configurations, just save your Deep Link.
Now you can copy your Tracking Link and bring as many followers as possible to interact with you through their Stories.
The strategies you can develop are many, have fun putting them into practice and discovering new ways to fully exploit all the potential of the Instagram Story Camera Deep Link.

Instagram is a super interactive, young platform, with a fluid mechanism designed to share its contents. Instagram itself encourages users to create new material, and with this system you could significantly increase your visibility, leveraging on Instagram's strength.

For these reasons, making a Deep Link to Instagram Story Camera can be important.
Taking into account every single aspect of your social campaigns can help you elevate your product to the stars.
You can try to make a Deep Link to Instagram too.
JotUrl has a 14-day free-trial in which you can test all the features you want.

Cheers!
JotUrl Team
– – – – – – – –
If this article: "The Easiest way to create a Deep Link to Instagram", helped you, this might also interest you: "Mobile Deep Linking"