LinkedIn is one of the platforms that have been developing the most in recent times.
Born as a social network created and designed exclusively for work, it ended up evolving rapidly.

Social media has had a huge impact on the way people present their companies, their projects, and their brand identity, changing the habits of workers and recruiters indelibly.
The seriousness and development of the platform have led to an exponential growth of users.
In 2020, more than 170 million users were registered in the United States, a record figure that shows how valuable LinkedIn has become for the world of work and marketing.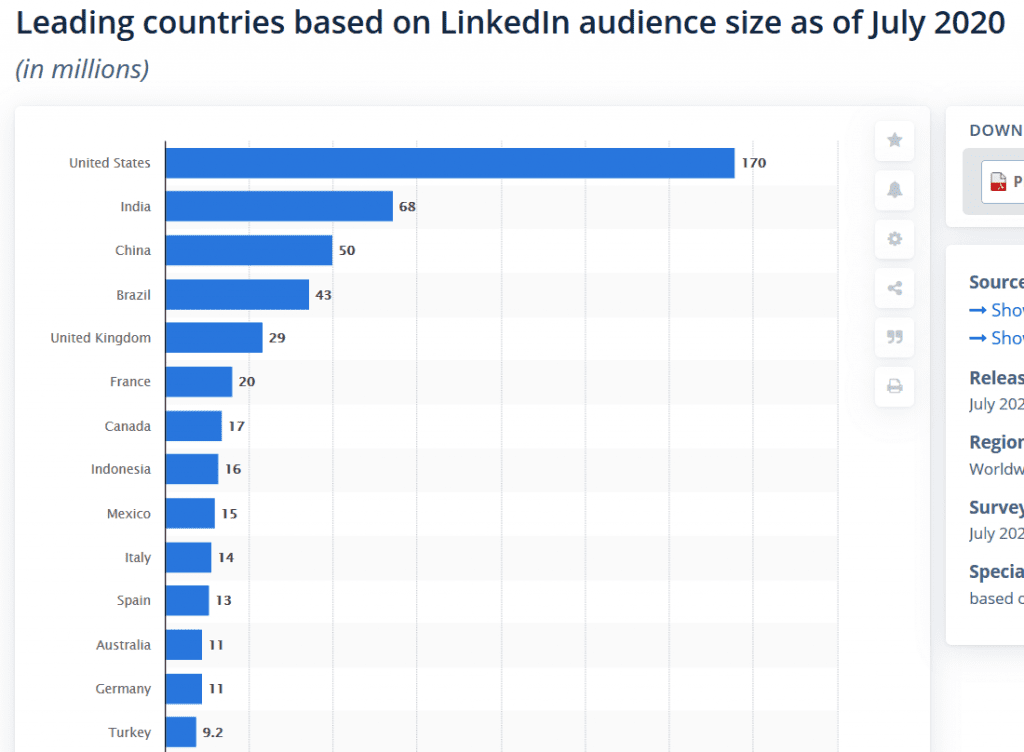 LinkedIn can be useful both for job seekers and for those who are looking for new talents to add to their team, it can be used to offer personal services or to launch your own brand.
With a very varied audience, ADS and market strategies have also found space to develop on LinkedIn.
There are many Marketers, Growth Hackers, and entrepreneurs who are on this social network.
In such an environment it is essential to use a LinkedIn URL Shortener, in order to improve your image.
LinkedIn, in fact, already has an automatic URL detection system, if these exceed 26 characters in length they are automatically shortened, assuming this aspect:
Logically, this system avoids the insertion of excessively long links, but in this way, you risk losing your brand identity.
To keep it you will need to use an alternative tool to the social LinkedIn URL Shortener automatic.
JotURL is an omnichannel tool created specifically with the aim of creating Tracking Links that can be easily shared.
Thanks to the JotURL features you can create your short branded link in just a few clicks, keeping your branded domain unaltered, clearly making it a choice to be taken into consideration whenever you need to post a link on LinkedIn.
How to create a branded shortened Link for LinkedIn.
Here's how to use Joturl as a LinkedIn URL Shortener.
Enter the Joturl dashboard and click (+) TRACKING LINK
Enter the destination URL
Add your branded domain
Enter the alias you want – remember to make it short enough not to be cut by LinkedIn.
Add notes, tags, and projects
Save your Tracking Link.
At this point, just copy your shortened branded link and paste it into your new LinkedIn post.
The totality of your URL must be kept under the length of 26 characters to avoid being automatically shortened by LinkedIn, so we recommend short branded domains and not too long aliases.
If you need ideas or explanations on how to create a new branded domain this article is for you: How to choose your branded domain.
LinkedIn uses the destination URL instead of my Tracking Link. JotUrl has the solution!
If you've used a Tracking Link on LinkedIn, you may have seen the final destination URL appear instead of your Tracking Link.

LinkedIn often has this habit, it can happen within posts and especially within the featured section of your profile.
This issue can be serious for the activity of many online business or digital marketing people, luckily there is a workaround to prevent Linkedin using the destination URL instead of the tracking link.
To get around this LinkedIn issue you should follow these steps:
1) Create a tracking link by associating it with a custom domain.
2) Activate the "Link Preview" function (which can only be activated on custom domain).
3) Configure the "Link Preview" option appropriately: insert a title, a description and select an image form your media.
4) Save the Link Preview settings.
At this point LinkedIn will not replace your tracking link with the destination, but will use your tracking link, for example this tracking link https://testlinkpreview.jo.my/w8usky is not rewritten.
Preserve your Brand using JotURL: the Ultimate LinkedIn URL Shortener
JotURL is one of the best LinkedIn URL Shortener on the Internet and will ensure a long life for your links.
First, it offers a perfect service for your needs. If you need to shorten a link, you can do it without problems by associating your branded domain.
You can 100% customize your alias, giving it the length you want. You will always have the certainty of having a URL shorter than 26 characters in this way, being able to control every single step of the creation of the link.
In addition to Branded Links, you will have access to a whole series of additional features that can help you in any aspect you wish to develop in your Marketing campaigns or Personal Branding projects:
Advanced Deep Links
Easy Deep Links
Conversion Tracking
Social Opt-in & Social Opt-in XL
Remarketing Pixels
Traffic Optimizations Tools
24/7 Link Monitoring
6 different CTAs templates
UTM builder & Manager + UTM viewer in dashboard
Custom Visual QR Codes
Link to Whatsapp Chat thanks to Whatsurl
Multi-link into Instagram Bio with Instaurl
A/B Testing
Postback URLs for your Affiliate Marketing
Analytics in the Dashboard
Team support and Free Tutorials
JotURL, in addition to its developed features, is particularly attentive to security.
We take care of banning any prohibited or harmful content, accepting only safe and reliable domains and links, in order to improve the experience of all our users.
Your contents will always be safeguarded, in case of broken links, malfunctioning, or deleted pages you will always be notified.
The status of the links is monitored 24/7. Moreover, JotUrl is fully hosted on the Microsoft Azure cloud, with a 99.99% uptime.
This means that Joturl is reliable and safe and consequently all the tracking links in the link-building phase.
JotURL Chrome Extension
If all this were not enough you can use the Joturl Chrome extension for the quick creation of a Tracking Link.
Using Joturl's Chrome Extension will allow you to create branded links in just a few clicks!
You just have to go to the page you want the link to and click the icon of your extension.
Smart Tip: If you click ALT + R you will activate the Jot chrome Extension even without clicking the icon, as long as you have installed the extension.
Obviously to use the chrome extension you will need to have an active plan and a regular Joturl account.
When the building-panel is opened you simply have to enter your branded domain and choose an appropriate alias, in this case, remember that your URL must not exceed 26 characters in length.
Insert tags or notes as you like to find what you need faster and finally select the project.
Once you have selected and set all the fields, you can proceed to create the link.
The operation is very simple and will allow you to get shortened branded links in a few minutes.
Once you get the new link you can share it on various social media, also LinkedIn.
Currently, the extension can only be used for the Google Chrome browser, it is not excluded
that in the future extensions optimized for other browsers may also be developed.
At this link, you can find the Joturl Chrome Extension page.
If you want to try one of the best LinkedIn URL Shortener ever made, click the button below and start your free 14-day trial!
Cheers,

JotURL Team

————
Do you like this article about LinkedIn URL Shortener? Then you might like to read this: Joturl: The Best Url Shortener Chrome Extension