Powerful Mobile Linking and Attribution
With custom deep links, you can take users straight to the most relevant content in your app — faster than ever before.
Drive more
revenue

from mobile
Boost your mobile conversions with deep links that
promote your best content and offers.
Improve mobile experience
Raise customer engagement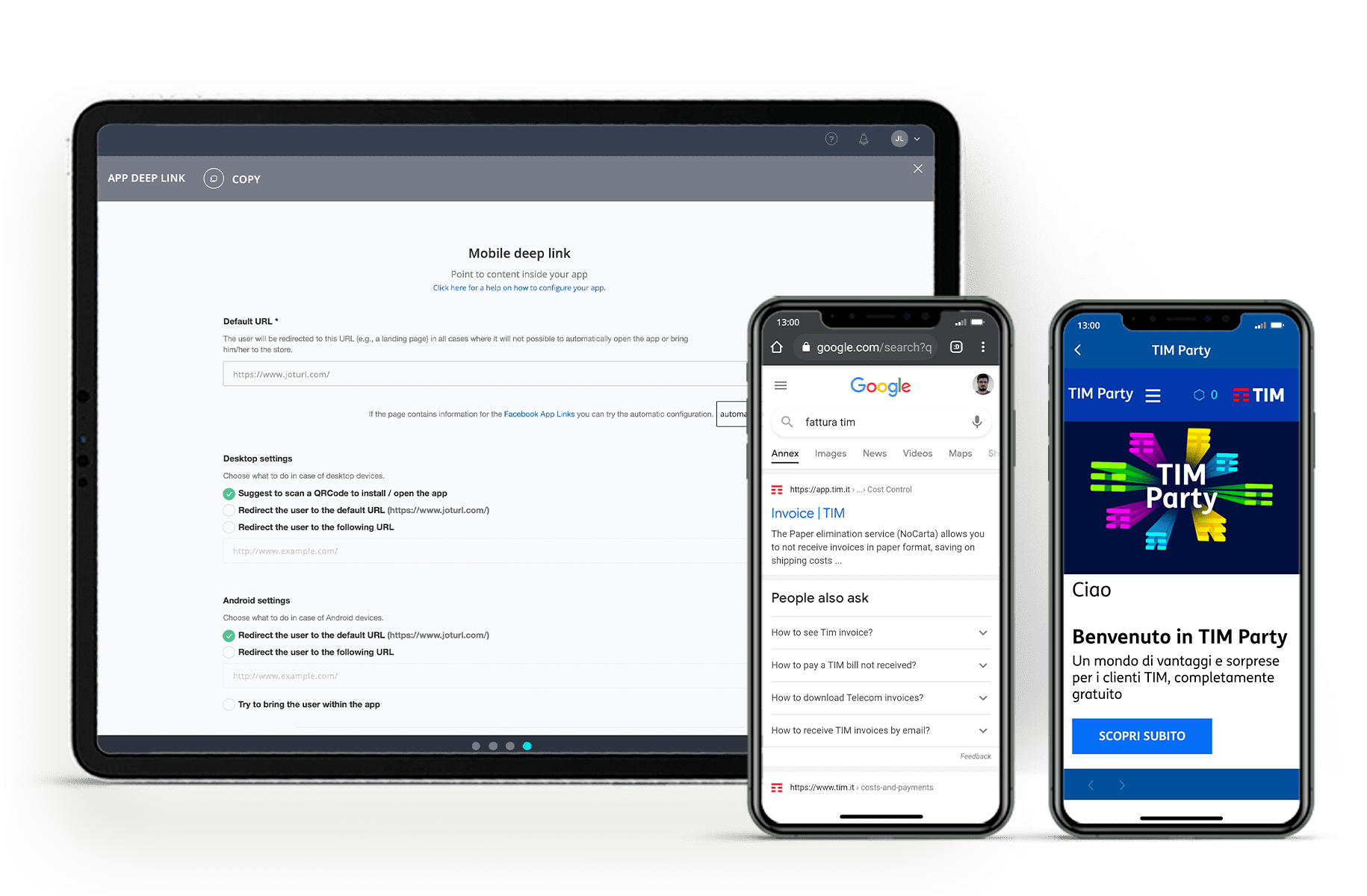 JotURL's powerful deep linking routes users to your best mobile content in one click.
Drive app installs and conversions
Grow across all devices, channels, and platforms
Improve customer LTV
Increase installs via Google search results
Trusted by top Corporates to increase efficiency and revenue
Direct your users to the links and downloads that matter
most

.
Create a seamless experiences across all touchpoints to drive more app installs.
Cross-Platform Experiences
Join thousands of marketers who
trust JotURL
Andrea Servino
"JotURL provides us with a reliable, scalable and professional solution to manage +1M tracking links across all of our marketing channels. The level and quality of the support provided by their engineers always fulfil our corporate needs."
Saverio mucci
"JotURL is one of the most complete suites for counting and redirecting users to the correct place. It really helped us to simplify our processes in delivering specific content on cross platforms, while improving our productivity with a great reporting tool."
Alessandro Frangioni
"JotURL is an excellent tool to enhance user engagement, increase conversion rates, collect leads, drive traffic back to your site, create highly segmented audiences and turn every link you share into targeted ads thanks to its many features.
Stapho Thienpont
"JotURL is an exceedingly clever, all-in-one suite for your marketing links. It's what we use to track link open rates, figure out the destinations, track conversion, remarket people, deep link and so much more."
Peter Rininsland
"JotURL is all I need for links. I'm loving it!" JotURL is not only a link shortener. It is a full suite of tools around links. You can manage the appearance, split traffic based on conditions, track usage and much more. So for me it's just all I need. I'm loving it!
Kim Celinder
Joturl is an awesome link manager, redirector, pixel inserter, etc. It does a lot, and it's easy to use.
Yari B.
"10+ tools in one!"
I can track my traffic, segment the audience and define the channels that work the best. Moreover i can use it to create custom audience and monitor my ROI. Therefore i can optimize my communication and the advertisement.
Jorge Edel A.
I use it every day to shorten my affiliate links. Joturl has a lot more tools than other link shorteners. It gives me the option to shorten, follow, create QR codes, pixel, cta and much more.
Angelo Sorbello
"Hands-down the best link tracker on the market". Top-notch deep linking technology, Great analytics, Instagram Mini-site, Retargeting, Usability can be improved and Affiliate integrations could be easier.
Everything you need to brand, track, and grow your business
in one easy-to-use platform.
Never stop branding!
Try these at home
Easy Deep Linking
Take users straight to the content you want them to see within the most popular apps.
Learn more
Calls-To-Actions
Drive more conversions with branded call-to-actions.
Learn more
WhatsURL
Engage with WhatsApp users—no phone number required.
Learn more
Retargeting
Turn abandoned carts into high-value customers.
Learn more
JotBio
Optimize your social media bios with one link to all of your content.
Learn more